It's giveaway time!
I'm launching an online print store on August 12, and as a preparation celebration, I'm doing a giveaway for the ultimate Joanna Marie Art bundle!
I've always loved drawing and painting faces. It's the eyes that captivate me, the emotion they can convey, the miniscule flecks of light that can mean the difference between anger and exuberance. I've dabbled in other subjects, over the years, a landscape here, a classic car there… but I always come back to the eyes.
My vision is a fine art landscape that represents the beautiful diversity of our world. I want to paint every nationality and every creature, though even that is only barely touching the surface of how wondrous life is. I want to bring just a little bit of that beauty into the homes and lives of everyone I see, because we all need the chance to sit back and reflect on how incredible our world can be.
Now, I'd like to share some of that with you!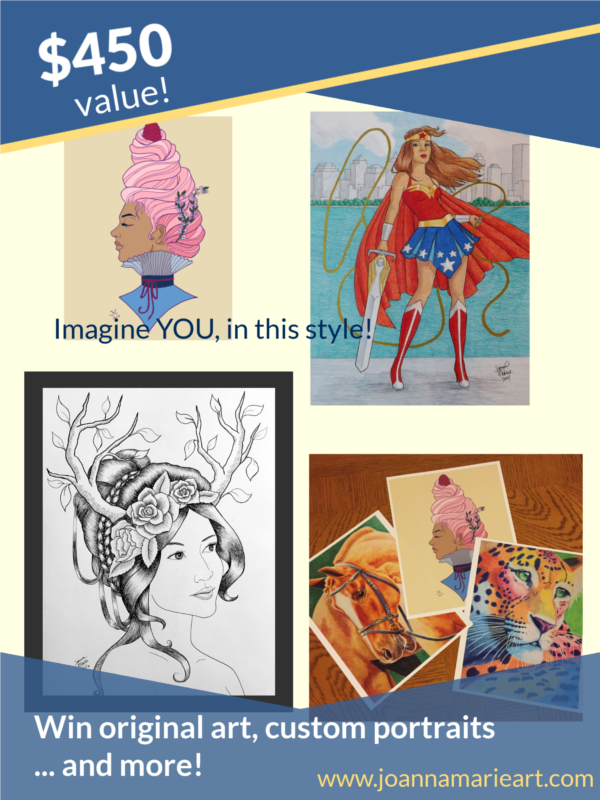 One lucky winner will receive:
A custom-drawn "sugar hair" digital painting
A custom-drawn colored pencil "character" drawing
An original pen and ink drawing – "Forest Nymph"
3 fine art prints (8x10)
How To Enter:
The contest will run until Friday, August 11th. You can do several things to earn contest points and increase your chances of winning. For every contest point earned, your name will be entered once more into the pool (e.g., if you've earned 10 points, you have 10 chances of winning). (Note: no purchase is necessary to enter.)